March 8, 1937 - May 11, 2007
Shirley A. Emery of Coweta, Oklahoma passed away on Friday morning, May 11, 2007 at her home. She was 70 years old.
Mom was born on March 8, 1937 in Fort Gibson, Oklahoma to D. E. and Fannie (Holman) Church. She received her education in the Tulsa school system. On June 6, 1953 she and Jareld C. Emery were married in Bristow, Oklahoma. They were married for 53 years. They came to the Coweta area in 1978 from Tulsa.
Shirley was a hair stylist and a homemaker. She was a member of the First Assembly of God Church in Coweta. She was a member of the Western Swing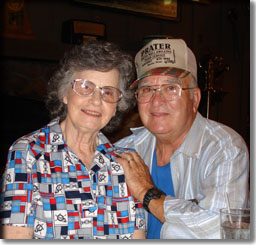 Society of Sacramento, California, Pioneer Western Swing in Seattle, Washington, and Western Swing Society of the South West. Her hobbies included gardening, singing, and reading. She also loved spending time with her family.
Survivors include her husband, Jareld of the home; three daughters, Janice Brown and her husband, Phil, of Coweta, Jara McKean and her husband, Clair, of Bixby, Kathy Wolfe and her husband, Ronnie, of Sand Springs; two sisters, Opal Lawson of Mounds, Oklahoma, and Jessie Church of Jackson, Tennessee; thirteen grandchildren, Rondell Brown, Lisa Horne, Adam Brown, Angi Goodman, Justin McKean, Christie Enochs, Chase Brown, Tyler Brown, Kyle Brown, Clint McKean, Keith Wolfe, and Dusty Wolfe; twelve great grandchildren; and numerous nieces and nephews.
She was preceded in death by her parents, two brothers, and two sisters.
My mom was a very strong-willed woman. She ran her home and found it very difficult to give up that role. She experienced this disease 'her way'. She continued to use hand-crutches long after she was told it wasn't safe. She used oxygen instead of a ventilator, when she was told it would cause her to go to lose her lung capacity quicker.
She sure struggled with the disability and dependence of ALS.